Top 10 things to buy in Morocco.
Top 10 things to buy in Morocco.
>
Home
>
Blog
>
Top 10 things to buy in Morocco.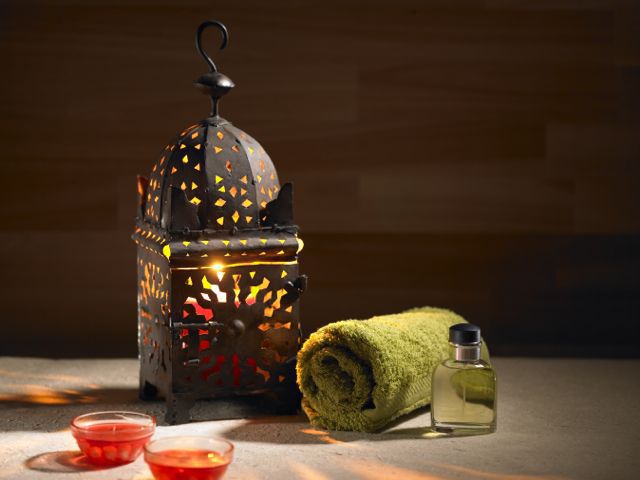 Morocco is a shoppers paradise, so trying to whittle your list down to only 10 items is a pretty tough ask.
Here is my idea of some of the top 10 items you may wish to add to your shopping list. This is definitely more of a ladies list than mens. Sorry blokes.
In no particular order I will start:
Leather Pouf
Make sure you bargain hard, but more importantly take a good hard look at the quality as they can vary dramatically! There is a dazzling array of different colours and styles available, so take a good look around.
WARNING!!! Your moroccan pouf may stink to the high heavens for the first few weeks due to the ancient tanning process they use on the hides. This will disappear with time. Fill them with something nice and dense like flock, tightly scrunched newspapers or old rags when you get home. Sit back put your feet up, and dream of your trip to Morocco.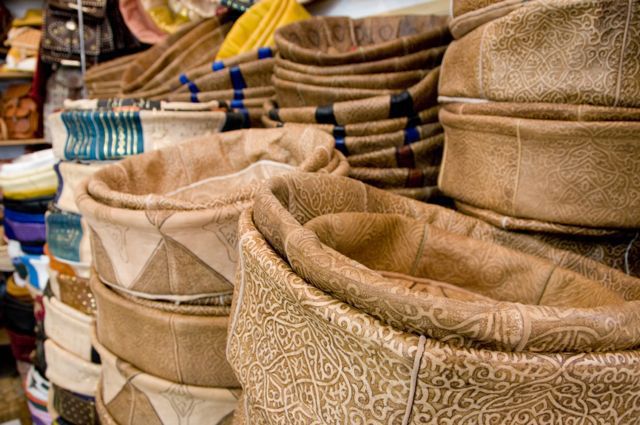 How can you not love Moroccan lanterns!! Once again there is a rather astounding selection of different styles available. If you want to get one home in one piece I would highly recommend purchasing one of these very traditional lanterns in the picture which you will see everywhere over there. Make sure you pay a little extra and go for the best quality. The other option is to go for a brass lantern as they generally have no or just a small amount of glass. There are some seriously stunning brass lanterns available. Expect to pay much more for brass than tin. Put a candle in it when you get home, run the bath and imagine yourself being pampered in a fancy hammam.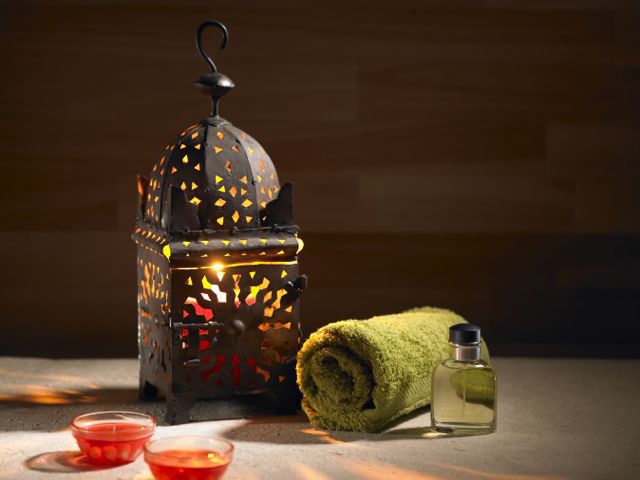 Spices
Morocco is famous for it's spices and spice blends. One of the great pleasures of travelling in Morocco is taking in the smells of the local spice market. One of the most popular blend of spices is Ras el Hanout. Each spice shop will sell his own blend of
Ras el Hanout
with anything from 8-20 different ingredients. You are fine bringing in ground spice into New Zealand(make sure you declare though), but whole spices are better left in Morocco as you risk having them confiscated when you arrive back home. There is also a fantastic selection of natural dyes.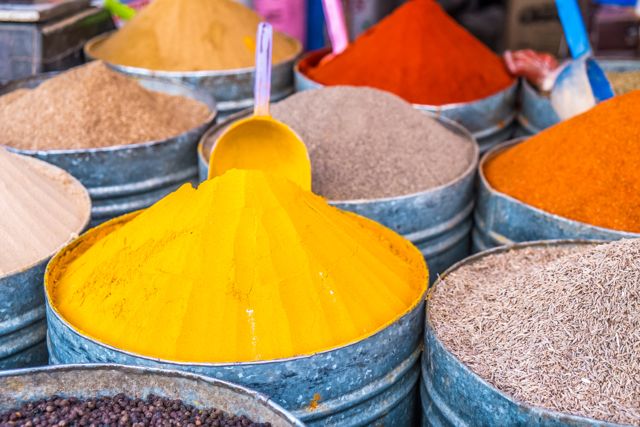 Incense
You will often see woman walking around the markets in Marrakech and Fes selling these blocks of incense in Musk or Amber scent, and they smell so dam good. The scent lasts for ages when you just shave a small piece off the side, or you can just rub some on your skin. Don't do what I did, and hang a block of it in a chiffon bag on my rear vision mirror of my car. In the hot summer sun, it just melts and splatters all through the car. Smelt great though!
They take next to no room in your bag, does not cost much and the bag smells totally fab when you arrive home.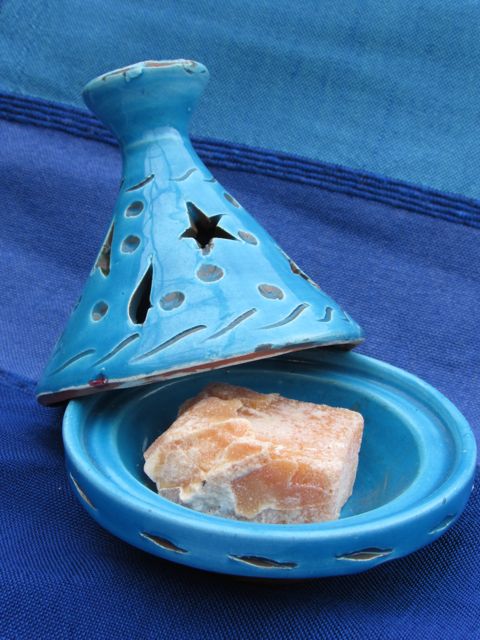 Tea glasses come in huge range of colours and styles, and are normally sold as a set of six. Even though they are glass, they are pretty robust and perfect for you to re-live your mint tea experience (which will never be as good sorry). They also make super dessert glasses, make your own candles in them and of course the ultimate liquor glass. A little large to be shot glasses, but hey...each to their own. They should normally only be hand washed. You may also like to purchase a fancy silver teapot.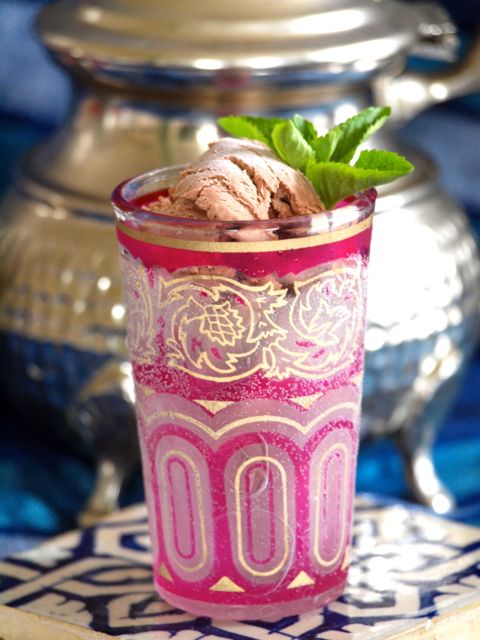 Tribal Jewellery
Morocco is the home of all sorts of weird, wacky, and wonderful tribal jewellery. Much of it is commonly referred to as berber silver which is a blend of metals and generally not sterling silver. You can however find fantastic pieces of sterling silver and with semi precious and precious stones. The selection is vast!!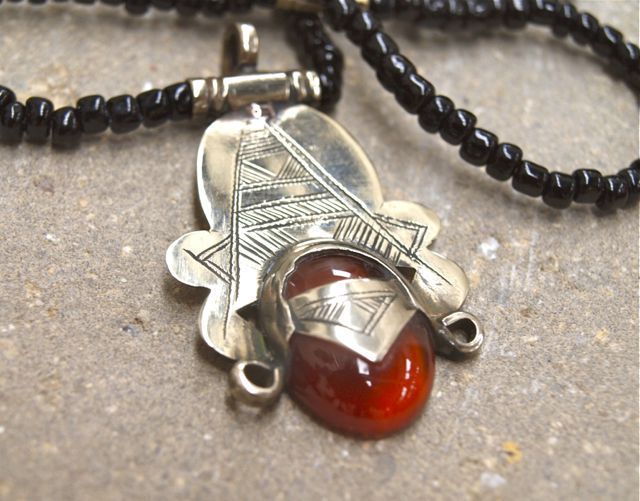 You will see vibrant cactus silk fabric all over the souqs of Morocco. It is traditionally hand loomed by 2 men, and they are normally around 2m x 3m in size. You can also get scarves, handbags, wallets, purses and smaller sized pieces. Somehow they can put the most unusual colour combination together such as green, pink, yellow, purple and orange, and it all works wonderfully well. There is sure to be a colour combination which screams out to you that you absolutely have to take it home. It's machine washable up to 30 degrees . Perfect for making curtains, cushions or to use as a throw over an old shabby couch.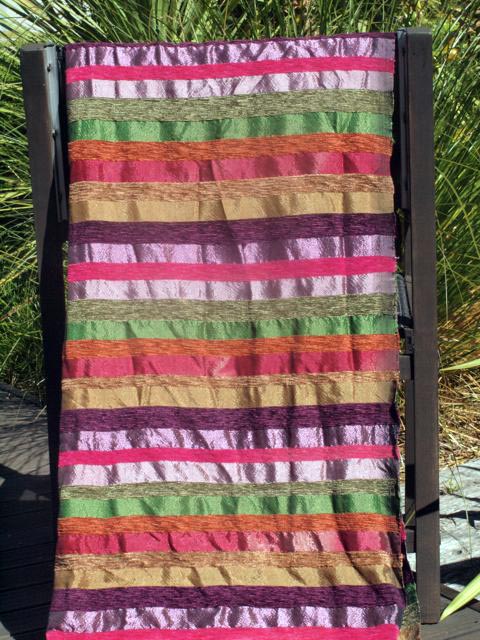 Beautiful glitzy perfume bottles are a pretty cool accessory for your bedroom, bathroom or make a cool exotic arabian inspired gift. You can also pick up some decadent smelling essential oils to be used in your fancy new bottle. They are also used to sprinkle rose water or orange blossom water on your hands to refresh yourself.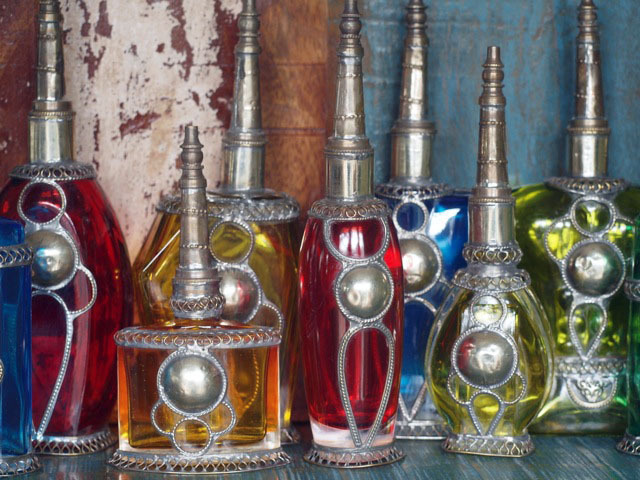 Leather Handbags
Once again there is an overwhelming selection of leather handbags. My recommendations here would be to put quality first and price second. I'm not much of a handbag person myself, but it's pretty damed tempting when you see some of the fantastic bags in the souqs.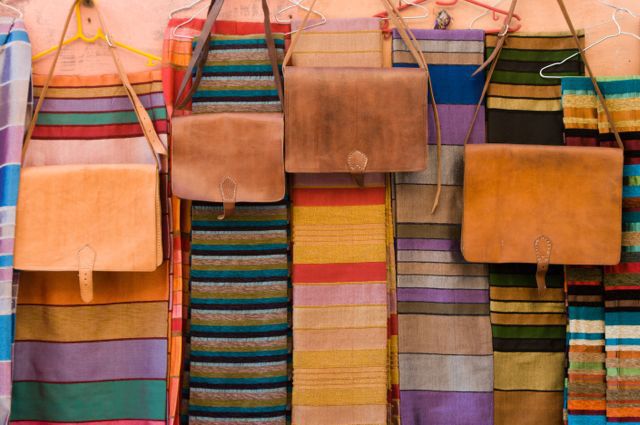 Argan Oil
Delicious nutty flavoured argan oil is Moroccan gold. Is fantastic drizzled over a salad and it is also commonly used in beauty products for your skin and hair. Help the community by purchasing it from a woman co-opperatve and supporting better working conditions and pay. You will commonly see these fun little glass bottles with a tassle on top in your riad or guesthouse for shampoo & conditioner, so you may also like to add that to your shopping list along with a decorative mini tagine. The list never stops!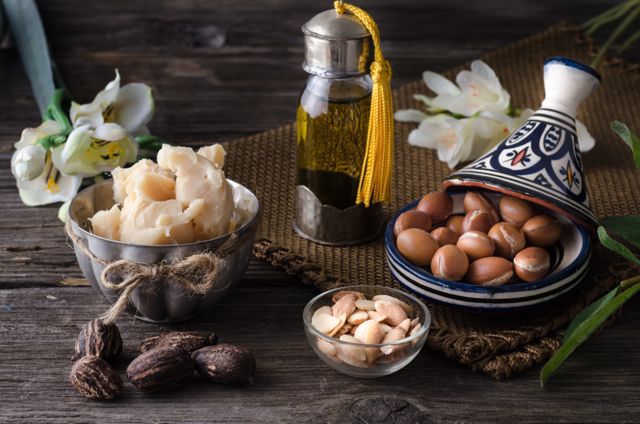 Well that list is really just scratching the surface. The obvious one I have left out is carpets, but you generally won't fit one into your luggage. If you are prepared to post things home, well you can really go to town. Or you could just be like me and go bugger this, I'm sending a container home. Not very practical however!!
Enjoy your shopping experiences and check out my blog on
Shopping in Morocco
for some helpful tips on getting the best price.
Cheers, Anne :-)
Posted: Friday 10 April 2015
---