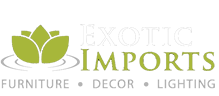 Exotic Imports
We have over 2500 subscribers to our newsletter. Sign up, and be the first to know when new stock has arrived or any special deals we may be running.
At Exotic Imports it is our job to source beautiful exotic furniture, decor, lighting and textiles. We currently import stunning and magical Moroccan lanterns and genuine hand knotted Moroccan carpets from Morocco. Recycled furniture, and rustic furniture from India and Mexico; Colourful hand painted stools, mosaic lanterns ;and hand stiched patchwork kantha quilts from India. Awesome talavera tiles, vibrant talavera pottery of all shapes and sizes, traditional mexican tiles mirrors, star lanterns and rustic Mexican furniture. We are planning on adding more countries as we go. We source our products from ethically produced means to reduce the impact on our beautiful blue planet. It is important to us that we support small family run businesses who in turn make sure their staff receive fair pay and good working conditions. Our products are hand crafted by skilled artisans. Beautiful unique pieces of home furnishings. Please enjoy browsing through our site.. Come in and see our showroom 1148 Hinemoa Street, Rotorua, today.
Come and see Exotic Imports, the importers of quality furniture, lighting and decor.