How to make Moroccan mint tea.
How to make Moroccan mint tea.
>
Home
>
Blog
>
How to make Moroccan mint tea.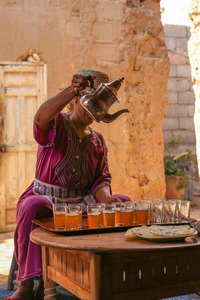 How to make a cup of Moroccan mint tea.
Wherever you go in Morocco the chances are you will be offered a cup of seriously sweet mint tea. If don't get offered a cup of tea, you may wish to go and take a good hard look at yourself in the mirror :-) Take the opportunity to sit down and enjoy a cup of tea with the locals as it is a sign of hospitality, friendship and tradition, especially after you have completed a purchase, as there will be no hard sell tactics once you've already shelled out your hard earned cash and you can learn a lot about the Moroccan culture. Moroccans take huge pride in their tea making skills, and will often ask a visitor with their group of friends "who makes the best cup of tea?" You are kind of expected to drink 2-3 glasses so as not to offend your host, and prove that they make a top notch cuppa.
As the Moroccans say "The first glass is as gentle as life, the second glass is as strong as love, the third glass is as bitter as death"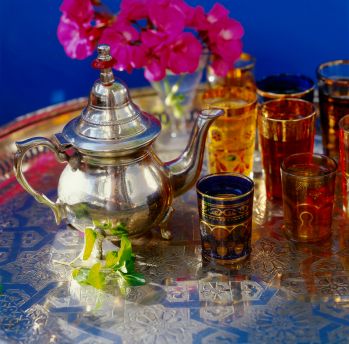 If you prefer your tea not to bring on type 2 diabetes please make sure you ask for your tea to have no sugar before they make it as the sugar is added to the pot, not to glass as we do over here. The tea can be quite bitter without sugar, so either risk dental decay or ask for a block of sugar and you can sweeten it a wee tad by adding it into your own cup. Trust me….they will have a stash of sugar cubes lying around somewhere. Otherwise suck it up and get your sugar rush. It really does give you a bit of a lift for another round of shopping or sightseeing.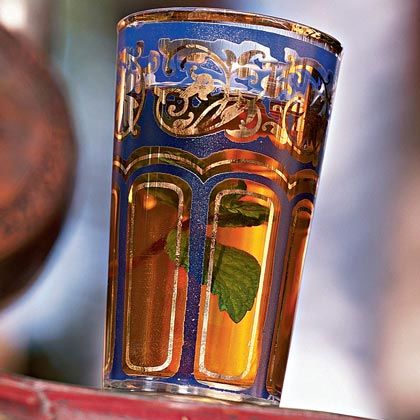 So you want to make your own Moroccan mint tea. Be warned however that it is never going to taste as good as the cups of tea you had in Morocco. It's just a travel thing. Margaritas taste best in Mexico, raki even tastes pretty good in Turkey!!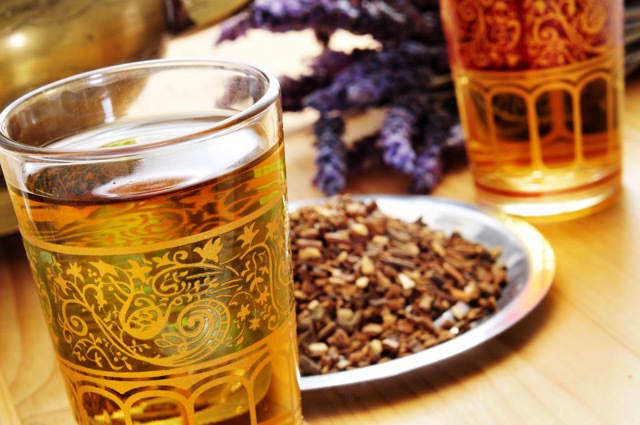 Ingredients
This is to make a 6 cup pot of tea.
1 tablespoon of loose Chinese gunpowder tea

5 cups of boiling water

sugar to taste

large handful of fresh mint leaves(spearmint or peppermint)
Put your gunpowder tea in the teapot and pour in 1 cup of boiling water, then swirl to warm pot and rinse tea. Strain out the water and tip down the sink, reserving tea leaves in pot. That first cup is very bitter, which is why it is discarded.
Add 4 cups boiling water to tea and let it steep for around 3 minutes. Stir in sugar (to taste) and the bunch of mint and leave for another 4 or 5 minutes. If you have a traditional Moroccan teapot you will normally simmer it over the heat for 4-5 minutes before serving.
The first glass is normally poured back into the teapot 2-3 times to help dissolve the sugar.
Pour into Moroccan tea glasses from a great height for extra showmanship. This should cause the top of the tea to froth. If you can do that, you have done good, and deserve a pat on the back.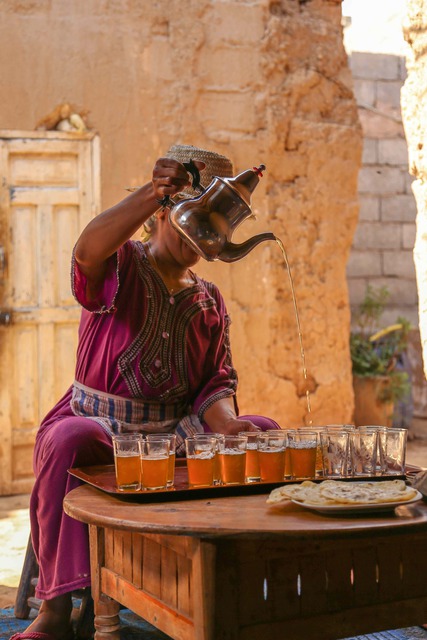 Add a mint leaf it you want it to look extra pretty.
We have plenty of Moroccan tea glasses, tea pots, and tea trays arriving in our next container which is due sometime in November 2015.
Check out our blog for 6 different ways to use Moroccan tea glasses.
Thanks for taking the time to read our blog. You rock :-)
Posted: Tuesday 8 September 2015
Comments
★

★

★

★

★

Hi there
I've Moroccanised the colours in my kitchen/dining area, and wondered if you've any copper trays that I could hang up on the wall - or items of a similar attractiveness.

Posted:

2019-11-19 14:11

by

Gerald - Motueka
---
---