Lemon Chicken Tagine
>
Home
>
Recipes
>
Lemon Chicken Tagine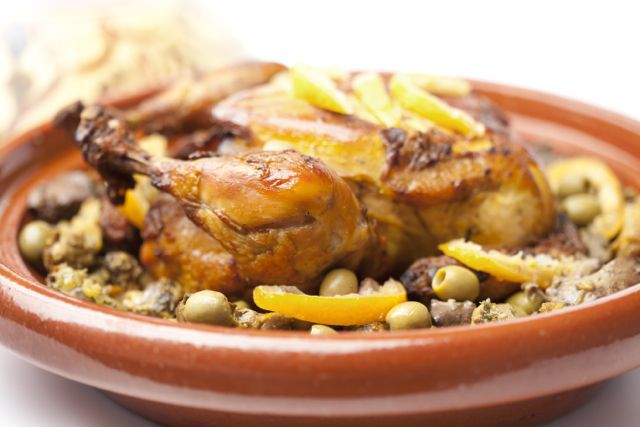 4-6 cloves of crushed garlic.
Olive oil
2 chickens, cut in pieces
1/4 tsp fresh ground black pepper
1 tsp ground ginger (or 2 tsp minced fresh ginger)
pinch of saffron threads
1 tsp cumin
1 tsp turmeric
1 cinnamon
3 onions chopped
2 cups chicken stock
1 cup green or black olives
3 preserved lemons, rinsed, pulp removed and sliced thinly
1 cup coriander (optional)
1 small bunch flat leafed parsley finely chopped
1/2tsp salt or to taste
Method
Mix together the garlic, black pepper and a dash of oil and rub the mixture into the chicken and set aside for a few hours.
Heat the oil in a large Moroccan tagine or casserole pot and fry the chicken till golden brown on all sides.
Add the spices and onions and stir-fry over high heat for a few minutes.
Add chicken stock, and preserved lemons.
Bring to the boil, reduce heat and cover.
Simmer on low heat for approx 30 minutes.
At the end of the cooking add olives, parsley and coriander.
Add salt to taste.
Serve with couscous or rice.
---