Egg & Kefta Tagine
>
Home
>
Recipes
>
Egg and Kefta Tagine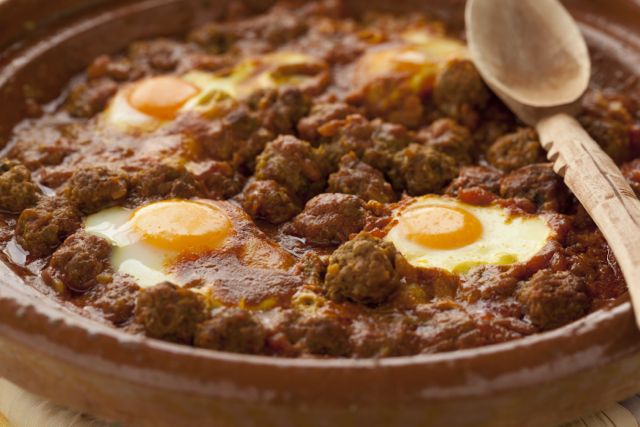 MEATBALLS
800gm lamb or beef mince
1 onion finely chopped
3 cloves of garlic finely chopped
1 handful of finely chopped parsley
1 handful of finely chopped coriander
1/2 teaspoon of cayenne pepper
1 teaspoon of ground ginger
1 teaspoon of ground cumin
1 teaspoon of smoked paprika
Mix all these ingredients together and roll into balls. Cook in batches in the frypan with some oil for 8-10 minutes. Remove from pan or tagine.

SAUCE
Cook off 1 chopped onion, 2 cloves of garlic, 2 teaspoons of ground cumin, 1/2 teaspoon of cinnamon, 1 teaspoon of smoked paprika, 2 x 400gm tins of tomatoes, 2 teaspoons of harissa and a small handful of chopped coriander.
Add meatballs to pan or Moroccan tagine with the tomato mix and gently crack 4 eggs into the top. Place in a pre-heated oven at 200 degrees for 5-10 minutes until the eggs are set.
Serve with your favourite crusty bread. This recipe in totally yum!!
---