Chicken Vindaloo
>
Home
>
Recipes
>
Chicken Vindaloo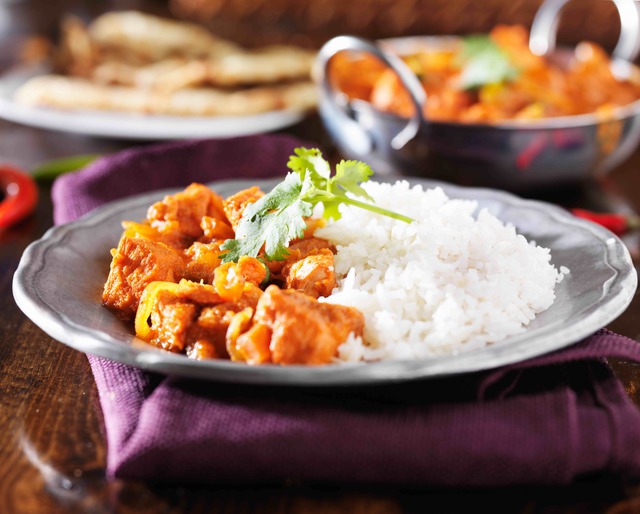 2 t coriander seeds
1 t fenugreek seeds
1 T  mustard seeds
2 t cumin seeds
1 T whole black peppercorns
6 whole cloves
1 stick cinnamon
2 T paprika
2 T wne vinegar
1 t ground turmeric
1 t brown sugar
1 hole bulb of garlic, minced
1 medium knob of ginger, peeled and minced
1.5 kg boneless, skinless chicken thighs, cut in half
3 T olive oil or ghee
3-4 green chiles, stemmed, seeded, and minced(more or less depending on your heat tolarance)
2 large onions chopped
1/2 kg of potatoes, cut in half or quarters
Cooked basmati rice, for serving
Fresh coriander to garnish.
Heat peppercorns, mustard, cumin, coriander, and fenugreek seeds, cloves, and cinnamon in a pan over medium-high heat, and cook until lightly toasted, about 2-3 minutes. Transfer to a bowl, and let cool, then grind with a pestle and mortar. Mix with the paprika, vinegar, turmeric, sugar, 1⁄4 of the garlic, and half the ginger; puree until smooth. Put in a bowl and rub over the chicken with spice mix. Cover and refrigerate for a few hours to allow spice mix to work its magic.
Heat oil in a saucepan over medium heat. Add onions, and cook until caramelized. Add remaining garlic and ginger along with chiles, and cook until soft. Add chicken with sauce, potatoes, and 2-3 cups water(or as needed), and bring to a boil; reduce heat to low, and simmer gently until chicken is cooked through.  Remove from heat, and season with salt; serve with rice and garnish with coriander.
Enjoy. Add some natural yogurt on the side if it's too spicy.
---